I was listening to an old The Receipts podcast this weekend with guest Tanya Compass, creator of Exist Loudly, and there was a part that really stood out. They were discussing how choosing yourself is the first step to healing broken relationships. Whether it be family or friends; it was being discussed in the context of when family can't accept you for who you are and it really resonated with me deeply.
I left the stifling environment of relatives who didn't see me for who I was and didn't care about my experience being the only brown person within it. I know what it is to have to leave to ensure you can live. Choosing myself and my needs before others felt like a betrayal, because the role given to me was to be the educator and peacemaker. My blackness, and experiences I had due to my blackness – was ignored at all costs or gaslit. So I left, after thirty years of loneliness and fear. After I did, I felt lost, alone, heartbroken, but finally free. Free to be whoever I wanted to be for me. Not because I had something to prove, or because I had to turn up to gatherings with stories of success to validate my existence. It was hard and I realised that a habit had formed of putting others before myself resulting in me not knowing how to take care of myself. I called up a friend and asked her what I liked. We came up with a list.
Since then I have taken my self care very seriously. I book solo activities into my calendar, encouraged by the Artist's Way which I completed last year and have started again! I take time off to relax and treat myself to a spa day here and there to rest and reset. I promised myself that this year my highest priority would be be enjoy my life and take care to not fill every moment with work.
Don't get me wrong, I love my work and am very blessed to be able to work for myself in and through collaborations that I truly believe in. To truly enjoy them to my fullest potential however, I need to not be working every day of the week and take time to reflect and rejoice. We only get one life, why live it out of duty devoid of joy? That's not how I want to live my life.
So for anyone who's looking for some ideas to treat yourself like the Queen's and King's that you are, here are some of the things I've done over the last couple of months to make me happy!
SPA Days
This was great to go on if you drive and have someone fab to go with. I went with my partner but you'd have fun with a pal too (as long as you're happy sharing a bed!) The mud rasul treatment was self delivered which was a surprise but actually really fun. The food was good and the surroundings were gorgeous. After checking out we went to find the Black Sands beach before coming home which was gorgeous.
I go here by myself once every few months to get some down time. It's located in a retirement home so is pretty quiet but also really nice. You feel like you've really treated yourself going here. If you get a package with treatments, you can also get the afternoon tea which is DIVINE and the restaurant is so nice you could sit there for hours. The treatments are also always really good and the steam/sauna rooms are piping hot which is perfect for me!
Theatre
I was very thankful to be invited to the press night of Drive Your Plow Over the Bones of the Dead by Bristol Old Vic Theatre. It's a murder mystery wrapped up in eco-feminism asking the main question of – Why is killing animals, hunting. And killing humans, murder?
Wonderful performance by the lead who is part of theatre company Complicité who have put this show together. It is weird and wonderful, unnerving and though provoking and the physicality of the main performance and the on stage tension stays with you after you've left. It's on til February 11th and there are online performances available in the last few days.
The Receipts
It's good to have a podcast on the go that make you think and laugh, here's a link to the one mentioned earlier!
New Sheets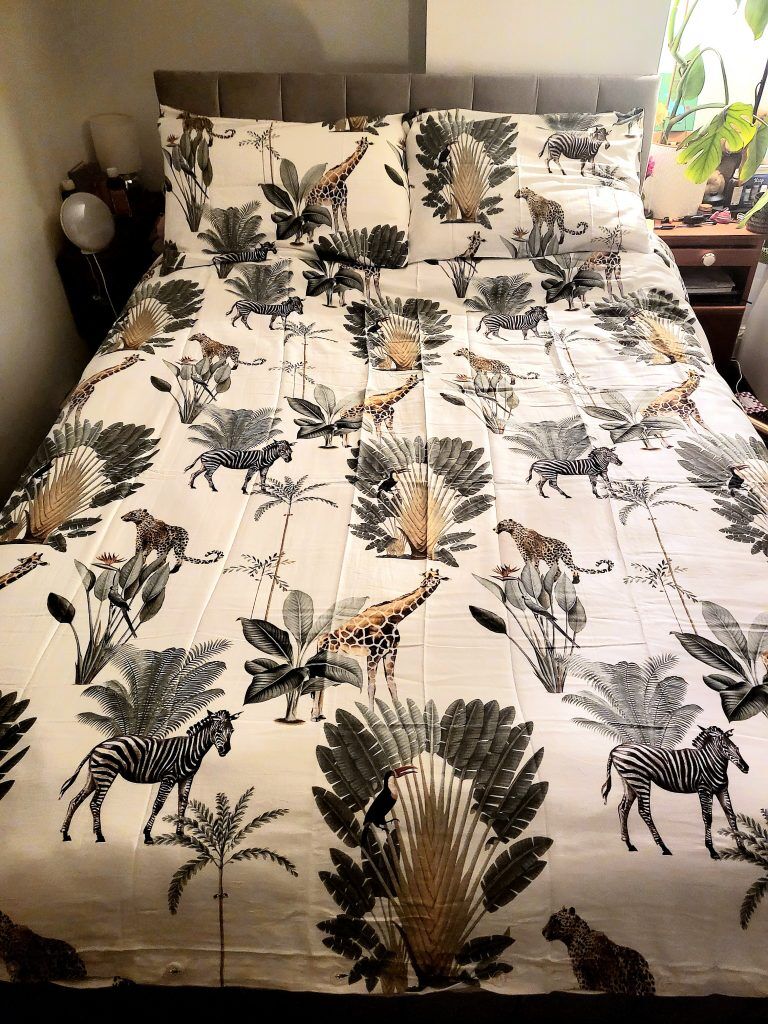 Last but not least, a little home comfort! Whenever I go and stay at my auntie's house her sheets make you feel like you're sleeping at a hotel. She told me her secret so I'm telling you! 100% cotton (Egyptian cotton if you can find it) and a high thread count – 400 and above – which can be found at non-astronomical prices at Homesense/TK Maxx. There's a particularly good one in Taunton. I've been saving up and put my new ones on last night and it felt like slipping into heaven. Cannot recommend enough for having a little home comfort that makes you feel special.